What Will the Plan Accomplish?
The ABQ RIDE Forward Network Plan is a review of the purpose and performance of Albuquerque's bus network, and an update of the City's plans for future improve­ments to the network.
The plan will help identify goals and purposes of the City's investment in public transit and will inform future decisions about where bus routes go, at what times they run, and how frequently.
Which Types of Transit Services Are Being Considered in the Study?
The Network Plan considers fixed route bus services provided by ABQ RIDE, including regular all-day bus routes, commuter routes that offer in the morning and evening only, and Albuquerque Rapid Transit. Though the study will consider connections to the New Mexico Rail Runner Express, the commuter rail is operated by the Rio Metro Regional Transit District.
What is the Project Timeline?
The ABQ RIDE Forward Network Plan will be completed around the end of 2023. Community engagement will occur in three phases, beginning in fall 2022 and continuing in late winter/spring 2023.


How Can I Get Involved?
There a number of ways for you to get involved, including completing a community survey, attending community meetings, and participating in a focus group to share your thoughts about how to prioritize transit investments. See the Events/Get Involved page for additional information. You can contact project team staff by emailing info@abqrideforward.com.
What Kinds of Services Does ABQ RIDE Currently Provide?
See the ABQ RIDE website for route schedules and information about other services, including Sun Van Paratransit options for ADA-certified passengers.
What are the Types of Network Design Options that ABQ RIDE Could Pursue?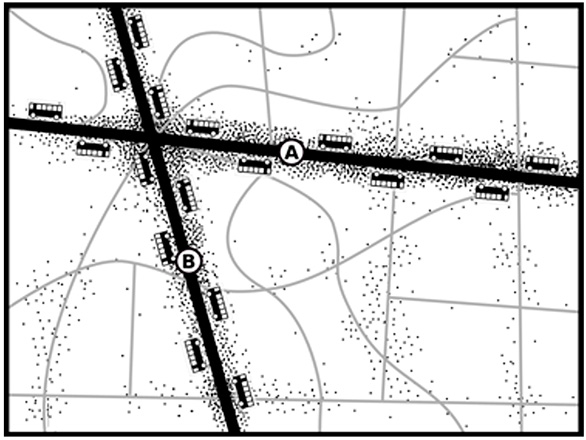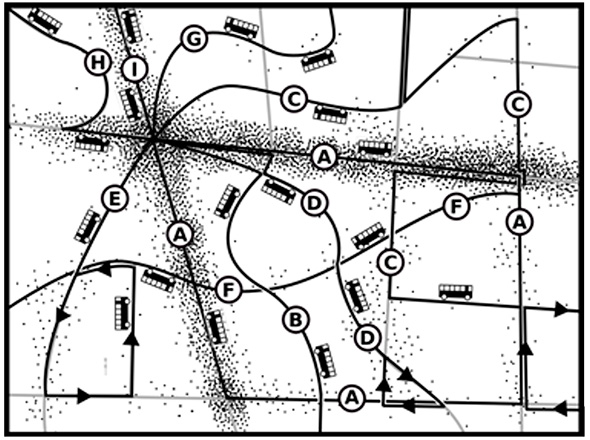 In the maximum ridership scenario, all 18 buses are focused on the busiest areas. Waits for service are short but walks to service are longer for people in less populated areas. Frequency and ridership are high, but some places have no service.
In the maximum coverage scenario, the 18 buses are spread around so that there is a route on every street. Everyone lives near a stop, but every route is infrequent, so waits for service are long. Only a few people can bear to wait so long, so ridership is low.